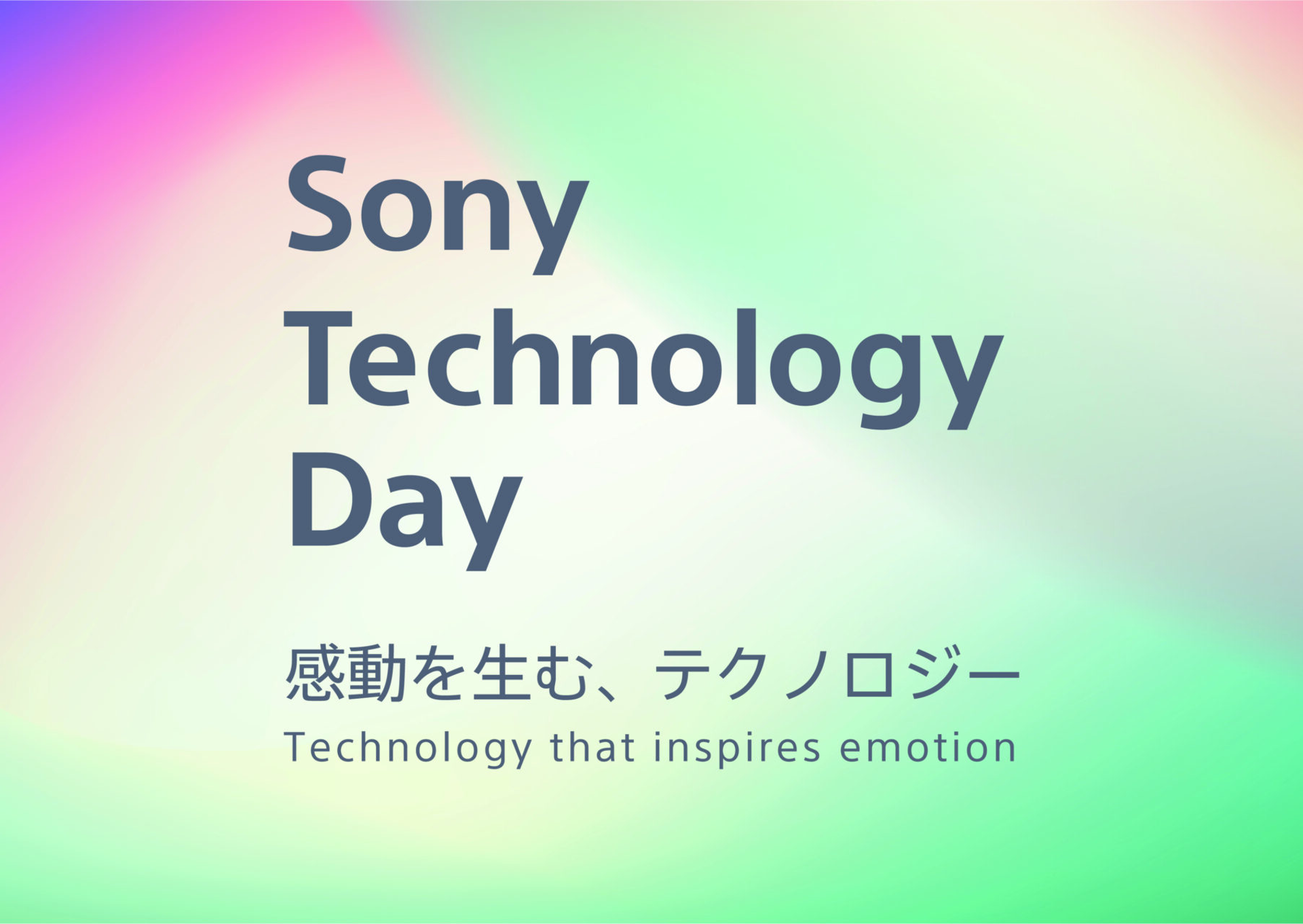 Today, Sony Group Corporation ("Sony" or "the company") held "Sony Technology Day," an online event to exhibit various Sony Group technologies. Sony introduced eight technologies, under the theme of "Technology that inspires emotion," that connect the various businesses of the Sony Group and support the evolution of the company.
Sony's identity is "a creative entertainment company with a solid foundation of technology," and its Purpose is to "fill the world with emotion, through the power of creativity and technology." At the opening of the event, Toru Katsumoto, Sony Group Corporation Executive Deputy President and CTO, said, "I hope to take the lead in uniting the Sony Group's diverse businesses through talent and technology, which will leverage to evolve our products, content, and services in ways that fill the world with emotion."
For further details, please refer to the special website: https://www.sony.com/en/SonyInfo/technology/activities/Tech2021/
Fusion of the Physical and Virtual Worlds
"Virtual Production made possible with Crystal LED and cinema cameras" - Stimulating creators' creativity
Virtual Production is a general term for new video production technology that synthesizes live-action video and computer graphics (CG) in real time. With "In-Camera VFX," one form of Virtual Production, a 3DCG image linked with the movement of the camera is projected as a background on an LED display installed in the studio behind the performer. This frees creators from the hassle of CG composition required for conventional green background shooting, as well as restrictions such as weather, time and place. Crystal LED is an LED display that combines Sony's unique LED control technology and signal processing technology cultivated in BRAVIA®, and projects high-resolution images with overwhelming reality with high brightness and a wide viewing angle. The digital cinema camera "VENICE 2," equipped with the newly developed 8.6K image sensor, offers high-resolution and a wide color gamut for rich expression, and is capable of expressing rich gradation even under a wide range of brightness conditions. ​ The combination of these in-house displays and cameras has a high affinity for color reproduction and tonal expression, and makes possible more realistic content production. Furthermore, the Sony Group will deepen collaboration with creators inside and outside the Sony Group, as well as with engineers involved in actual filming, to promote the development of Virtual Production solutions that can efficiently produce high-quality content.
See more here.
"EPTS and Data Visualization Technology" - Visualizing all performances
The event also highlighted SkeleTRACK, the Sony Group company Hawk-Eye Innovations Ltd's Electronic Performance Tracking Systems (EPTS) in football, which captures the movements of players and the match ball from live video feeds taken by dedicated tracking cameras, collecting skeletal data in real-time and with millimeter accuracy. Hawk-Eye's data visualization technology, Virtual Recreation, was also used to manipulate the data obtained from EPTS and video review systems to create virtual outputs. The advanced image processing, AI recognition technologies perfected by Hawk-Eye, fused with Sony's specialty broadcast output capabilities and image sensor technology, entire games, including details down to the posture of the players, are converted into data, making it possible to visualize performances that were previously impossible to capture. In the future, the Sony Group and Hawk-Eye aim to apply this technology and contribute to various entertainment businesses, not limited to sports.
See more here.
Pursuit of Reality
"OLED Microdisplay and low latency head mounted display" - Sharing experience with an overwhelming sense of reality
This is a virtual reality (VR) head-mounted display (HMD) that projects a high-definition 3D space and achieves a high-resolution of 4K with one eye and 8K with both eyes. ​ High image quality is achieved through multi-pixel and miniaturization using fine processing and advanced packaging technology cultivated through the development and manufacture of CMOS image sensors, and Organic Light Emitting Diode (OLED) microdisplay using device and circuit technology cultivated through the development of displays. The processing time is reduced by decreasing the amount of latency throughout the entire system thanks to the integration of data from multiple sensors. The person watching in VR can experience high-definition images in real time according to the movement of his/her head. ​ In addition to industrial applications, the OLED microdisplay is expected to be used in the entertainment field, as it can express the texture of materials and human expressions in high-definition in real time based on movements of the viewer's head.
See more here.
"Using super-resolution technology in ray tracing" - Balancing high-resolution and production efficiency
Utilizing know-how cultivated through the development of images using machine learning since the 1990s, this technology maximizes performance with limited computing resources and achieves high-resolution with high-precision from various perspectives for images of a variety of scenes and quality. For 3D content with a large amount of data, it is possible to reduce the production time by a factor of a few hundred by reducing the number of rays used and rendering the images based on information such as character shape, texture and lighting. The development is being carried out in cooperation with Sony Pictures Entertainment, reflecting the voices of creators, with the aim of expanding the range of applications from 2D to 3D and developing a wide range of applications in the entertainment field.
See more here.
"Three technologies used in the PlayStation®5" - Realizing breathtaking immersiveness
Three technologies installed in the PlayStation®5 were introduced: Tempest 3D audio, haptic feedback and adaptive triggers. Tempest 3D audio is designed with DSP (Digital Single Processor) to achieve extremely accurate audio positioning, so that the sound can be heard from anywhere 360 degrees around the listener, as if inside a sphere with countless speakers. Haptic feedback realizes a variety of tactile responses by changing the vibration of the newly developed dual actuator according to the situation in the game, providing an immersive experience. In addition, the adaptive triggers adopted to the L2/R2 buttons of the DualSense™ wireless controller enable powerful real-time tactile sensation in response to in-game actions with a small precision gear and built-in high-torque motor. Sony Interactive Entertainment will continue to develop these technologies with the aim of providing "The Best Place to Play to everyone".
See more here.
Contribution to People, Society and the Earth
"Stacked SPAD depth sensor for automotive LiDAR" - Enabling high-precision detection from the particles of light
Also introduced were sensors that detect the distance to surrounding objects with high accuracy by capturing low levels of light energy. The sensors consist mainly of three elements: SPAD (Single Photon Avalanche Diode) pixels that capture light and convert it into electrical signals, Cu-Cu connections that transmit those signals, and logic chips which contain circuits that derive distance measurements from the signal. By utilizing strengths cultivated in the development of Sony's CMOS image sensors, the sensors realize high-speed and high-precision distance measurement from short to long distances with a single, compact chip. the Sony Group aims to support a safe and secure mobility society by contributing to the evolution of automotive LiDAR for detection and recognition.
See more here.
"Manipulator" - Reproducing the delicacy of the human hand
A technology that allows robots to carefully handle unknown objects through real-time detection of signs of object slippage based on changes in pressure distribution detected by the fingertips. With this technology, robotic hands can grasp an object without dropping it by adjusting the force appropriately. In addition, the robot can grasp the object in the appropriate position and posture since the distance sensor detects the distance from the fingers to the object. As the manipulator can grasp objects as delicately as human hands, it can be expected to help human beings in new areas where it was difficult to introduce conventional industrial robots. By combining AI and advanced sensing technology with robots, Sony aims to strengthen the capabilities of manipulator and continue to develop robot technologies that will enrich people's lives.
See more here.
"Earth 'MIMAMORI' platform" - Watching over the Planet Earth
A system that, if realized, would be able to sense anywhere on earth and detect signs of abnormalities such as environmental problems and disasters to help prevent problems before they occur. The system would urge humanity to act with sustainability in mind by alerting them of potential abnormalities in advance. The system would consist of the Sony Group technologies such as soil moisture sensors capable of measuring moisture content; ELTRESTM, a satellite communication system using LPWA (Low Power Wide Area) wireless communication technology; and sophisticated predictive data analytics technology utilizing AI. Through fieldwork and demonstration experiments, Sony intends to continue to work toward the realization of this platform in order to help contribute to a more sustainable future.
See more here.